First, a hearty hello to all my new followers and blog friends :) Please introduce yourself and feel free to join me on my plethora of social networks! I love making new blog friends so say hi.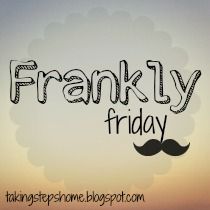 Today I'm linking up for the
first
time with one of my best blog friends,
Amy
, for her very first Frankly Friday! And how cute is that button? One of these Friday's I'm going to make myself a mustache like that and do my whole Frankly Friday in a vlog with a mustache.
Here's a little bit about FF via Amy's blog:
frankly
|ˈfra

ng

klē|
adverb
in an open, honest, and direct manner
. . .
I want this to be a way for all of us to be open, raw, and transparent with not only each other...but with ourselves. I think we put a lot of stock into the "fear" of what others may think of us...into the "fear" of really putting what's on your heart out there in case someone decides to tear you down.
I'm over the fear & you should be too.
So let's write...whether it's about a situation you're struggling through, a victory you've made, a memory that you can't let go of...anything as long as it's honest.
To be
Frank
, I want it to be my birthday. Not because I'll be the big 2-1
I'm not a party girl at all
, but because birthdays are fun. And right now, I'm pretty desperate for fun.
Look at it this way: I have class everyday and work right after class. On the weekends I can't even stay out late with my friends because I have to put together the paper early Saturday/Sunday. Rude.
Plus my birthday signals the end of the semester. Unfortunately it's also usually during finals week, but I survive. After only two weeks of class I'm dying. Last week I was treading gracefully above the water. This week I'm floundering. There is no reason I should be this stressed or this far behind the second flipping week of the school year. Weeks 6-12 re my bad weeks. They're in the middle and there usually when I start to zone. I've never felt it this early!
I've dealt with a lot of anxiety and depression the last 4+ years and every school year I feel as though it creeps back into my life because things get so crazy and I have no escape. Cameron says I need hobbies, but who has time for hobbies when you're taking a full class load, running a campus newspaper, starting a campus TV station and trying to keep your sanity?!
Frankly
, I'm pretty over this mental black hole I keep spinning into. I need to trust in my Father to give me only as much as I can handle, even I feel overwhelmed at times. I know He is putting these things on my plate for a reason!
This is what I feel like I need. to play with a bunch of balloons in a field somewhere. Juvenile? Maybe. Pure, unadulterated fun? Definitely. Spot on. via
*Sorry I got so deep with this, but it's something I've been dealing with a
lot
lately. And I know you all understand!