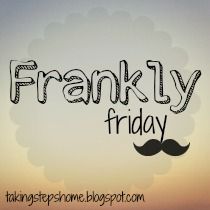 Linking up with my blog friend
Amy
to be
frank
with myself again this week! Head over to her blog to share with others what you're
frank
about
*
Warning: this post contains a picture of a dead animal. If you are a bit squeamish I suggest you do not continue reading.
A few days ago I mentioned
here
that Cameron think I need hobbies.
I'd say I'm a pretty busy person between school and all my extracurriculars, but it's when I'm not doing anything that's the problem.
You see, I'm a very expectant person. I
expect
people to treat me a certain way. I
expect
my sister to keep our bathroom clean (I'm OCD when it comes to the bathroom). And I
expect
Cameron to want to spend as much time with me as possible.
I'm trying to be unbiased here, but I
hate
his hobbies. They're all incredibly time-consuming and expensive. Take fishing for example. He would leave around 6 a.m. on a Saturday morning and not get home until that evening and of course be dog tired and not want to do anything. Not to mention the gas money to get to the lake and bait, equipment, etc. Crazy.
Hunting is the same way. Money for ammunition, guns, bows, gear, etc. and hours sitting in a tree stand hoping something walks beneath you.
I can't do either. I get so bored and open water makes me nervous. With hunting I'm again super bored because maybe 1/10 times you go out do you get lucky enough to get something within range and I freeze literally all. the. time. I'm always cold so sitting in below-30 weather is not fun to me.
This one time I shot a deer with my crossbow. I also refused to touch it. Ew. The things I do for him...
He also likes golf and disc golf. Both expensive to buy equipment, and every time you play golf it's like $25 (!) which I think is outrageous.
As you can tell, he has a lot of hobbies. I, on the other hand, could lay around the house (or the lake, or the pool, or the back deck) and read all. day. long. and not be upset about it. He doesn't consider reading a hobby but what does he know?
When asked if I had any other hobbies I was quick to respond with shopping. Obviously my hobbies are expensive, too (I could go through two or three $10-15 books a week if I had time). But seriously, I'd rather be spending time with him.
As I write this I can only imagine how psycho I sound. I promise you I'm not a super clingy girlfriend
I just sound like one
. I pray about this all the time because if the want/need to spend time with him would go away I would have no qualms about him going fishing/hunting/golf/disc golfing with his friends.
Unfortunately I've had no such luck with that prayer, and maybe it's telling me something. Maybe it's something I have to deal with in another way...like finding a hobby? We shall see.