I don't use "get my goat" in my everyday vocabulary, so I'm not sure how it snuck into this post title.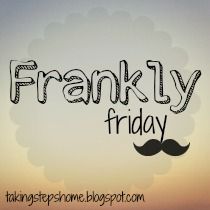 Carrying on. This week's edition of
Frankly Friday
hosted by my dear blog friend,
Amy
. This is where I am
honest
real
true
frank
with my readers about things in my life. This week: blogging.
*
There's something that's been on my mind lately: big bloggers.
Think "big business" but with blogs.
We all say we start our blogs for us, but it really becomes the numbers. "I got x views this month!" "Oh yeah? We I got x new followers within the last week!"
It's a competition whether we admit it or not.
I've made a lot of great friends through blogging. I text them, tweet to them and interact with them even if it's just through comments.
Which leads me to my next point: bloggers who don't comment back. I understand if you have like, 4,000 followers (which leaves little room to be personal with your readers, in my humble opinion) and have no time to respond to the 500 comments. But one thing I told myself when I started gaining followers was that A. I would do my best to get to know each of them through their own blogs and B. I would respond to
all
comments left on my own.
I'm not sure why this is so important to me other than when bloggers reply back to the comments I leave for them, I feel special, remembered and important. They took time out of their day to respond to me after I took time out of mine to read their post. Does that make sense? It's like returning a favor, I guess.
Something else that I've been back and forth on is sponsors. I've sponsored a few blogs, gained a few new followers and made some new friends. Sponsoring (depending on the blog) can be great for getting involved and branching out in big old blogland. Often times you can co-host linkups (which I will actually be doing tomorrow), offer up something in a giveaway or just get a little shout out to get some more readers.
I've been a part of each of these, and I've had good and bad experiences. Mostly good. But there are some big bloggers who just blog for the benefits. We're talking bloggers that charge $50-100 for sponsorships!
People, I don't have that kind of money to spend on a spot that may or may not get me followers. And if it does get me followers, is that like paying for friends? I don't know. I have yet to decide.
Something I prefer a thousand times over: button swaps. Like a blog? Grab their button and put it on your page (I let them know before/when I do. They're usually flattered). Wanna see your button on a friend's blog? Email them. In my
limited
experience they're happy to oblige.
Why pay to put your button somewhere? Be real with the blogs you display on your sidebar. Show the ones you love, don't make them pay to be there.
Blogging has become a machine. It's now an industry growing at an exponential rate. The thing is, there is no governing this out of control machine
not that there should be at all
and things can get crazy pretty quickly. This thing we all do and love should not be big business. It should be personal.
(End rant)
Note:
these are my opinions of the blogging world, which I do love dearly despite it's quirks and flaws.