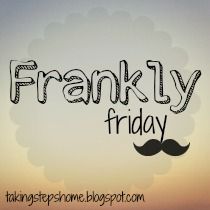 It's been far too long since I've linked up with my beautiful friend
Amy from Taking Steps Home
for Frankly Friday! I'm behind.
Don't laugh at that. I know there is more than one. I have a
recent
problem that is eating away at me. And this is a long story, so sit back, grab some tea or your PSL and read on. I'll try to be brief.
One of my good friends from high school moved away, got married and is getting ready to deploy for Egypt soon as part of her military service. Lots going on in her life, obviously.
She got married in a really small wedding in March 2011. And when I say small, I mean she told us about the wedding a month in advance; we drove to NC the day before the wedding; wore plaid shirts, jeans and flip-flops; put together the play list on her iPod the night we got there; and had homemade pulled pork at the 50-person reception. That's all fine and dandy, but it wasn't planned out really at all.
I haven't really kept in touch with my friend since her wedding. We rarely text, she's called me once and every now and then we'll comment/post back and forth on Facebook.
Now I would like her to be involved in my wedding, mainly because I feel like I have to have her in it since I was in hers. But since we haven't been in touch and she's going to be deployed for about a year (note: we're a year and a few months away from the wedding) I feel like it's going to be a pain. She won't be able to order a bridesmaid's dress from Egypt, be at the showers/parties, etc. And who knows if she would anyway if she was in the states? I mean NC to Ohio is a long drive/expensive flight.
And I am a planner. BIG time. I need to plan and have things set in stone. Having her in Egypt knowing she may or may not be back for the wedding stressed me out like you wouldn't believe.
I'm just not sure it's worth asking.
So I came to a conclusion: I'll ask her to read verses during the ceremony! That way she is involved and doesn't have to deal with the dress, planning, etc.
I know it wasn't the best, but I texted her and asked her. We'd been texting most of the day already and texting is our normal mode of communication, so why not? Plus with her being busy with deployment prep, it's hard to get a call in. I explained why, and what she'd be doing.
Problem: it's been almost 48 hours and I haven't heard back and FRANKLY I'm worried.
Mind you we were in the middle of a conversation when I asked, and our lovely iPhones have these fancy "read receipts" where you can see if and when (i.e. "Read at 9:23 p.m.") someone read your message. And she read it
Is she offended? Too busy to respond? Never going to speak to me again? Crying her eyes out about possibly not being there for my wedding?
I. Have. No. Idea. And it's killing me.
I'm one of those people who can't stand if another is mad at them. Who cares if she's states away and I won't see her for 1+ years? I'm confused.
Thoughts? I could really use input and advice from you guys :(