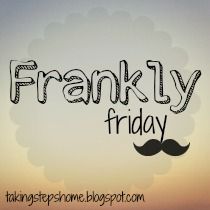 Linking up with my bloggy friend Amy at Taking Steps Home!
Big day. Huge day. I'm going shopping for my wedding dress on Sunday.
I'm usually a quick shopper. Get in, get out, get what you want. I have a sneaking suspicion that this will be a bit more challenging.
Frankly, I am so not ready for this. Not because I'm getting cold feet, but physically I am so behind.
Last summer I started the 5k couch program thingy and kicked ass for about six of the eight weeks. Then I got asthma. Womp, womp. It took a few weeks to figure out what was going on and by then I was so behind it was sad. So I quit.
Right after I got engaged, one of my best friends and I went to the gym and hit it hard. We went steady for about a month, and then started slacking. So I quit.
Apparently, I'm a quitter. I haven't felt motivated, not even to get in a wedding dress.
See, I've been emotionally scarred by shopping. Most of the time I'm with my model-sized sisters, and I'm not model-sized. Everything fits them perfectly everywhere and looks like a million bucks. Me? I have to search high and low to find something to fit, and then it'll fit my waist but not my boobs, or my legs but not my hips. Not pleasant.
There are other things, like my mother, that discourage me. She means well I think but some of the things she says still hurt. For example, earlier in the week right after I made my appointment we were talking about what I needed to bring (shoes, bra, jewelry, etc.) and she said "I've been thinking, what kind of dress do you want?" And I replied with the basics like a-line, strapless. She interrupted and said "Well you're built like me so you won't look good in a strapless so that eliminates a lot of dress right there."
Really, Mom?
Then there was prom/homecoming dress shopping. I had the pleasure of attending all four of my high school homecomings and four proms because as a freshman and sophomore I was asked by upperclassmen to go. Again, shopping for evening gowns is not fun when you're a bigger girl. They're all fitted and shaped for girls with perfect bodies and curves...which is not me. Did I find dresses? Yes. Did I like them? Yes.
Difference is, this dress I have to love and really look good in. Look the way I wanna look. It's not entirely about looks, and I know that. But really, pictures are all that's left after that day and I want them to be positive things for me to look at, not bad reminders of what I could have looked like. And the dress options are significantly more plentiful if you are in shape and I want to be able to get the dress I want, not the dress I fit in.
More than that, I want to be healthy. Lately I have been so. freaking. tired. that it's hard to get up, go to class and not need a nap mid-day. And that's embarrassing.
So I'm gonna try. For me, for my fiance and for my health.