The last few weeks have been rough for me, as you've seen in my recent post. This post, however, will not be a negative one! Hallelujah!
I'd like to say I'm done with the negative, depressing, Debbie Downer posts, but this is my space and when I have bad days, this space is a wonderful way to vent and get some support.
So today, I am linking up with Sar and Meghan to talk about some things I'm thankful for.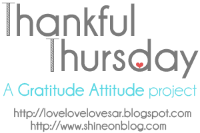 1. My ever-supportive parents & fiance
-Not much to say about this other than the fact that they're awesome.
2. Black Friday deals
I've started getting emails from all the stores I subscribe to via email and I am in love. I have Cameron's gift all planned and I will hopefully get the rest on Cyber Monday!
3. Motivating myself enough during this hellish to get ahead on school stuff
I know I've saved myself a boatload of tears a ton of stressful allnighters by doing this and frankly I'm pretty darn proud.
4. The Pulse is done for the semester. Hallelujer!
Yes, you read that correctly. The newspaper is done before Thanksgiving so that our writers can focus on finals and I can get the first few issues of next semester done before break ensues.
5. This guy
It really doesn't get any better than him snuggling with me while I work on homework after a rough day.
6.
This girl
who just so happens to be one of my favorite bloggers and an awesome friend. She also hit 100 followers this week and is hosting a pretty awesome giveaway, if I do say so myself, that I just so happen to be a part of! So what are you waiting for? Click
here
within the next few days and win some stuff!
Oh, and Josh Groban and this song. Seriously, listen to it and listen carefully to the lyrics.
Be sure to click the button above and link up! We have so much to be thankful for, especially with the season of gratitude and giving about to peak.