Before getting into one of my favorite link ups, just wanted to give a big hello to all my new followers! You guys are awesome and I'm sincerely happy to have you all along for the ride. If you haven't already, start here to learn more about me and this little blog of mine.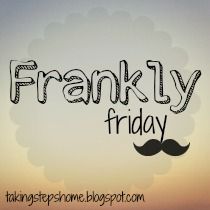 Lately I've been telling you way too much a lot about my major and future career. Well today I'm gonna talk about it again briefly, so bear with me.
I constantly wonder if I'm on the right path. Is journalism where I'm supposed to be? Can I picture myself if a newsroom for the next 40 years? Will it support myself and my family? Can I count on a decent job market when I graduate? Will I have to go to a big city?
Frankly, it's terrifying to imagine and I really don't think I can.
I may be so worried just because of the stress of things, but I don't know if what I'm doing is right for me. I know there's something, and I love what I'm doing, but I'm just not sure if it's that thing for me.
Clearly, there's a lot of uncertainty for me right now, so if you could pray for me, I would appreciate it more than you know.
Sorry this is so short, school is swallowing me whole this week. Have an awesome weekend!