I'm alive and well. I have almost made it through the first week of classes. It's a struggle, not going to lie, but I'm taking it day by day.
Oh and forget Monday/rainy day blues, I have the school day blues. Like, everyday.
My classes are really demanding this semester. I figured take two elective/gen eds would make things a little more bearable, but that's not the case. Boo. My two electives are MWF and I don't know a single person in either class so my anxiety is through the flippin roof.
Tuesday/Thursday classes, on the other hand, are just as unfortunate. These are probably my most demanding classes and one of them is an 8. freaking. a.m. If you know me at all you know I am
not
a morning person. I could sleep until noon and go to bed at 4 a.m. everyday and not be upset. So this 8 a.m. is rough right now and sleep is scarce.
I have started counseling. Thankfully it's free to students so I will have someone to talk to on a weekly basis to help me get things under control. The counselor thinks this anxiety may be causing my sleep problems...break through! I thought I was just destined to be a zombie every morning. Now that I know what's causing my sleeplessness, all I have to do is get the anxiety under control and I should be golden.
Anyway, I just popped in to let you all know that things are, in a word, okay. That's really the best way to describe it.
Oh and check this out, the lovely Melissa at the newly relaunched
Design Eat Repeat
is making post signatures
which I've wanted forever but am not creative enough to figure out
and is making them for everyone. She said, "It's FO FREE!" So I said, "Sure." *Bridesmaids reference*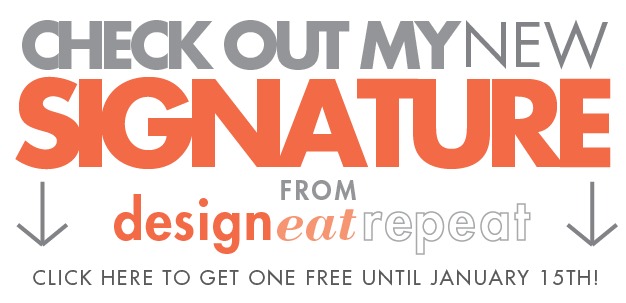 So whatcha waitin for go get one!