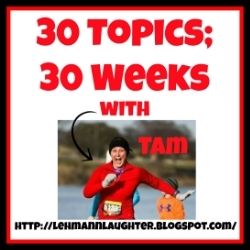 Linking up with one of my favorite bloggers
Tam
to talk about 30 things.
This week's topic is happiness. Is personal happiness a priority or selfish? The prompt reads, "Do you make time for yourself - is it at the expense of others' happiness? If so, how does that affect you?"
So all of you who are probably reading this know I've been struggling with depression lately, obviously the polar opposite of happiness. To combat this, I've really been focusing on myself and making me the priority. I think there is a time in everyone's life where they have to make themselves a priority and just focus on you. This happens to be that point in my life.
Usually it does affect others. For example, I often feel like my focusing on me negatively affects Cameron or takes my attention/affection away from him. Maybe it does or maybe it doesn't. The point is, if someone
truly
loves you, they will understand the need for you to work on you.
Thankfully, I've been really blessed to have people in my life that understand. They aren't made that I need me time, they just get it. Including my incredible husband.
This guy's love and support plays so much into my happiness it's crazy. I'm a little more selfish, just comparing our two personalities. I'd like to say I'd do the same for him in regards to how giving his is in his time and energy, but I doubt it. Thank goodness we balance each other out so well.
Happiness is so important. If you're not happy, the people around you aren't going to be either. And if the people around you are upset that you're trying to focus on/better yourself, they're probably not that great of friends at all.