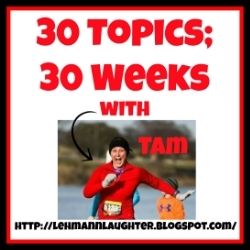 No, this is not a prompt to divulge my exact location. This week's prompt is:
Past or Present: Where do you live? Do you dwell in the past or do you focus on the present?
Looking back at my life, there has been so many sweet moments I love reliving in my head. Family, friends, childhood, teenage years, and the beginning of my adulthood have been amazing. The good
far
outweighs the bad in my life and I feel really, really blessed to be able to say that.
I grew up with my mom, my dad, a sister who is less than a year and a half younger than me, a brother and year and a half behind her and my youngest sister who is five years behind me. Growing up with all my siblings was so fun and we are all really close now. We spent our summers a few hours north of our hometown at Lake Erie. We rented a cottage right on the lake next to my grandparents' house. We hosted cousins, family friends and more importantly, some of the most amazing memories I'll even make.
Just a baby at the beach (I'm on the right)
Me and my siblings with some family friends- I'm on the left second from the top
More family friends- I'm the one with the boy hair cut bottom row on the left
As I got older, things got harder. Responsibilities grew and summers at the lake got shortened. Sports, jobs and other commitments unfortunately took precedent over lounging at the lake with my family. Nowadays we make it up only for holidays in the summer.
My present, on the other hand, is tumultuous. There are great days and there are really bad days. Dealing with depression (and consequently anxiety and obsessions) makes things really difficult. Emotions are typically very high and my temper is typically very short.
Unfortunately, these bad things make me miss out on the good things currently happening on my life and I would much rather focus on all the good times of the past instead. I'm a newlywed with my whole life in front of me and the world at my fingertips...
and yet if I had the choice I'd rather relive ages 6-12 probably.
I think the cause of this is probably the unknown. I finished my college career in December and really began job searching after the wedding in March. As of now, no luck...not even a little bit. It's causing a lot of stress. Yes, I have a job at the restaurant and I can contribute to our bills and groceries and whatnot but it's
depressing
.
I should be thankful. I should not be worrying and be thankful for what I have and live in the moment. Instead of stressing and spending hours a night on the Internet searching for something/
anything
I think I would be decent at, I should search a little and then spend the rest of my hours living my life.
I know I'm way off and I know most of it is in my head due to stress. All those sweet, sweet memories I made in my childhood were made and remembered because I was
present
and enjoying my life. If I were present and in enjoyment now, I would be making more memories!